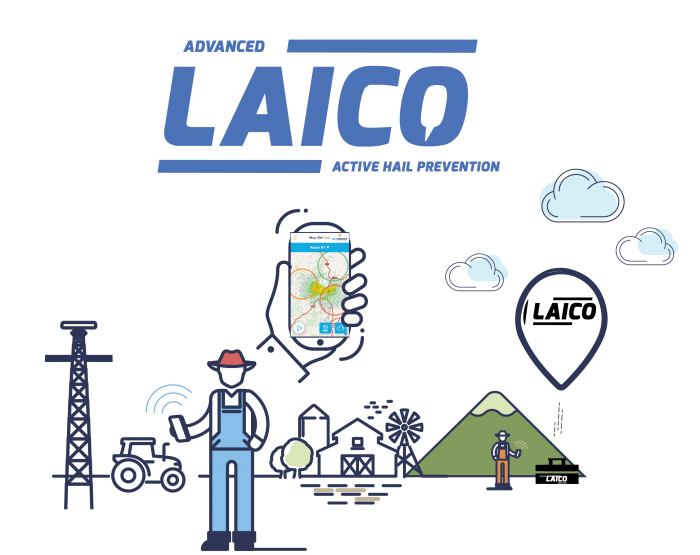 Since more than 10 years SKYDETECT™ is implanted in 7 European & Asian Minor countries for important orchards, greenhouses or car manufacturers. To be always closer from the customer's needs SELERYS join forces with Lacroix company to proposed a unique and efficient solution : LAICO.
DETECTION AND SOLUTION FOR ACTIVE HAIL CONTROL BY : 

HOW DOES LAICO WORK ? 
Skydectect's detection:
A new generation radar associated with a storm cells analyze software and a database of 10 years research.
A simple active control system
A flare charge with hygroscopic salt linked to a connected balloon inflated with helium and releases the salt in the cloud at the ideal moment.
Act at the right time: when the radar detects the cell risk, an alert is automatically sent. An electronic chip on the balloon allows the diffusion of the active ingredient on the perfect place. Indeed, the radar indicate the ideal moment to release the hygroscopic salt to precipitated the cloud before formation/apparition of hailstone. This solution is the substitute of rockets against hail until now proposed by Lacroix-Defense company.
WHAT ARE THE ADVANTAGES ?

About Lacroix CIE :
A complete range of innovated performances and services. The company provided until now rockets against hail used in a part of the territory. It disposes of hundred engineers and technician and also a wide network of experts, scientific and technic. An important storage medium and clean transport which allow Lacroix to proposed a complete offer about externalize pyrotechnical logistic.